Upcoming FREE family event at MASS MoCA this weekend from 11-1pm! Artist Bruno Miguel, currently on view in the Kidspace gallery, will be discussing his work. There will be free coffee and Lickety Split treats. Please feel free to share and post.
https://massmoca.org/event/talk-create-bruno-miguel/

Drury's performance of Matilda is less than 2 weeks away! Who's coming to see it?!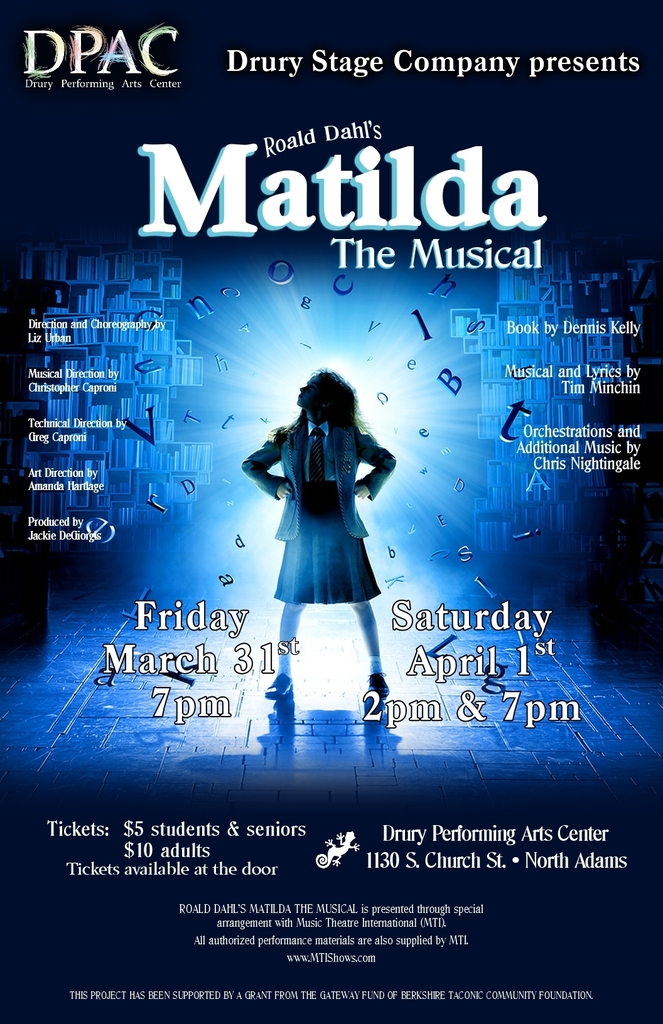 Wayfinders is offering a FREE financial education workshop that will help you understand money and set goals you can hit! You'll learn about: - Budgeting and spending wisely - Setting savings goals - Understanding banks - Getting good credit The workshop will be held over Zoom on 4/13/23 from 5:30 to 8:30 pm. The event will include raffles and gift card opportunities. Please see the attached flyer for additional information and the registration link.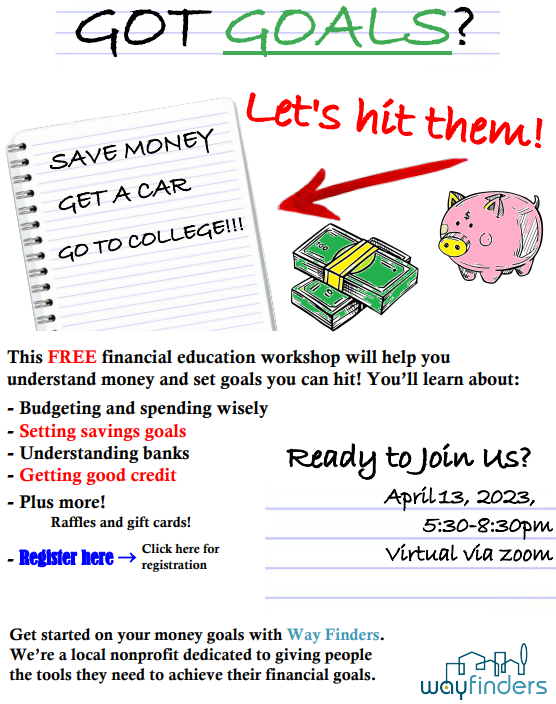 FREE program – UMass Ext. 4-H Career Exploration Series Wednesday, April 12, 2023, 7-8 PM (EDT) via Zoom The presenters are two veterinarians with the USDA. Have you ever heard of Avian Flu or Eastern Equine Encephalitis (EEE)? Imagine being a veterinarian, able to help take care of animals not just locally but nationally! Nicole Giguere & Kim Haling get to do just that. Join 4-H and get to ask the questions you have about being in that career. Open to all youth, geared toward middle & high school aged youth. To register:
https://bit.ly/CES4-12-23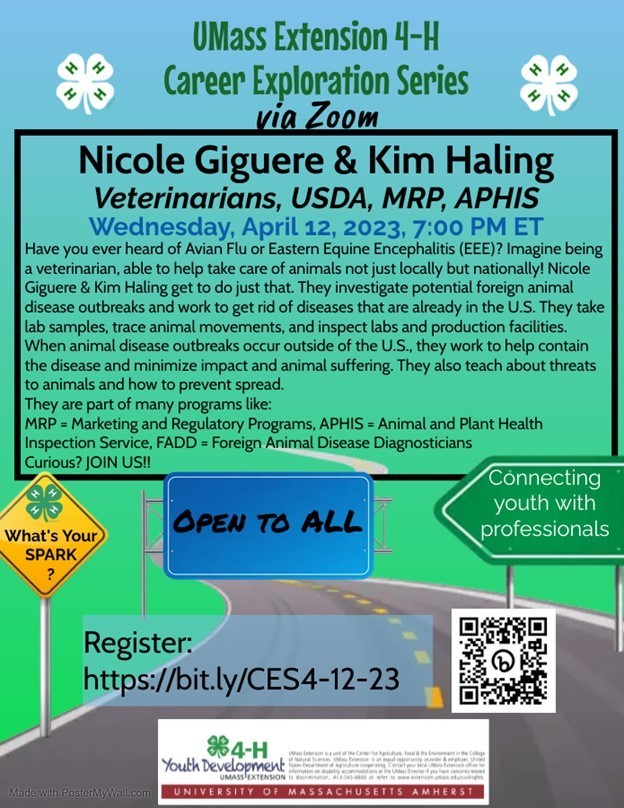 Information about how to access behavioral health services in Massachusetts.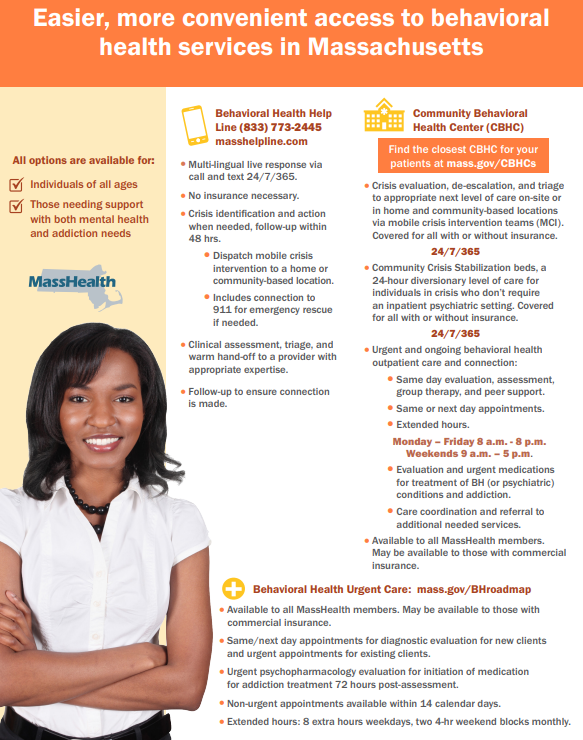 Check out this upcoming programming in our community!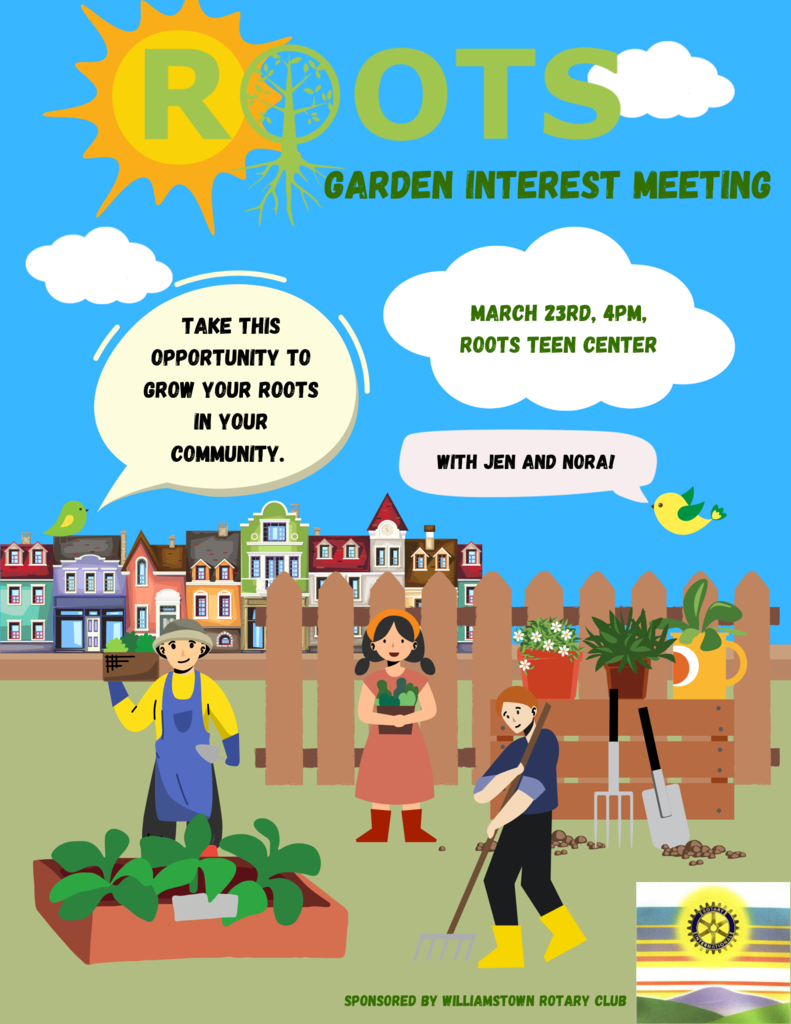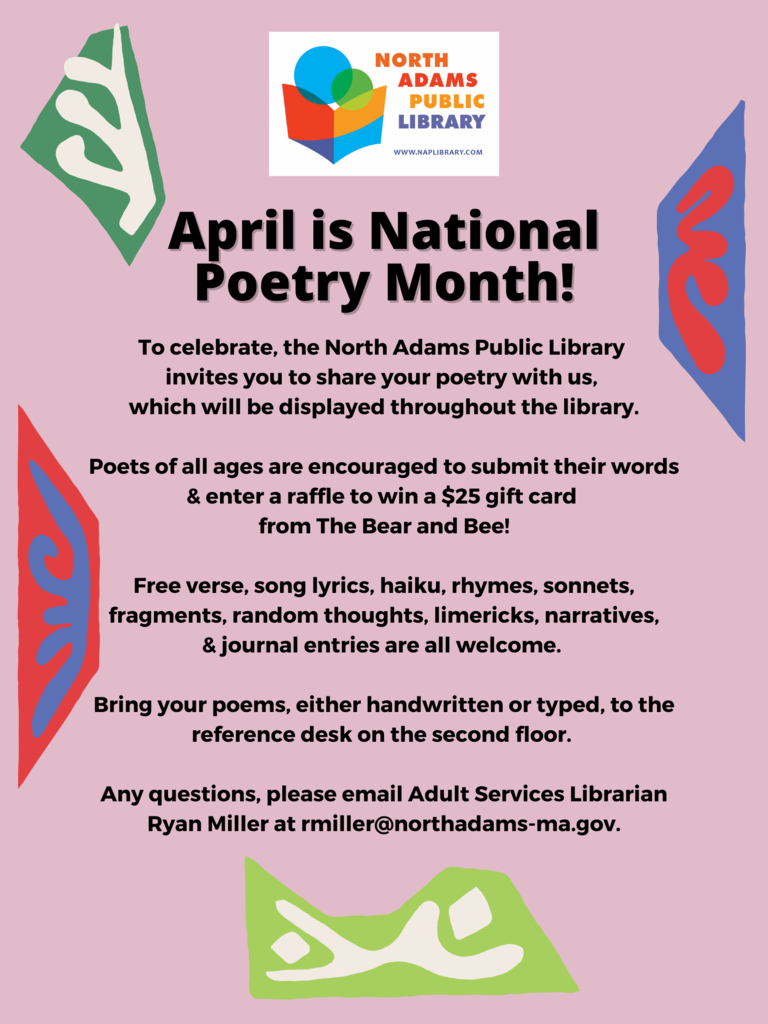 The North Adams Public Library is celebrating National Poetry Month in April! See flyer for details.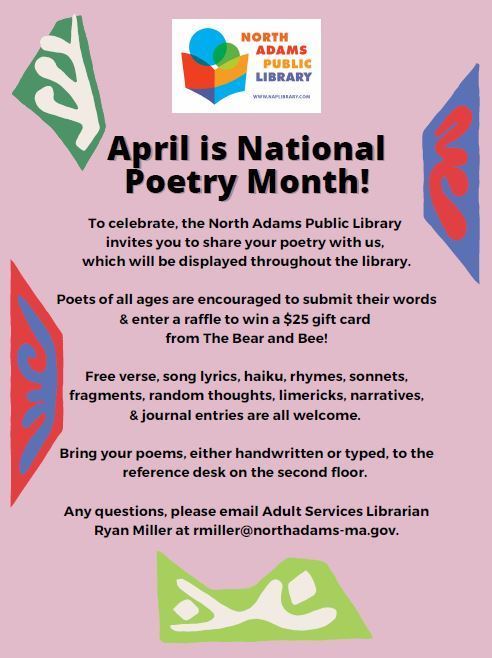 BCAC Community Conversation of Poverty being held on 3/31 at Williams College from 9:30-2:30 pm. The event is free with lunch provided. Please RSVP to the North County Office at (413) 663-3014 if you plan to attend. BCAC has also launched a community needs survey to get feedback to inform their program planning for the next three years. Responses will help BCAC to design or modify programs to better meet needs in the community. The information provided will be confidential. To take the survey, please go to the link below:
https://www.surveymonkey.com/r/T6K8G9N
or use the QR code on the flyer.

nbCC Youth Lead Forum. See flyer for details.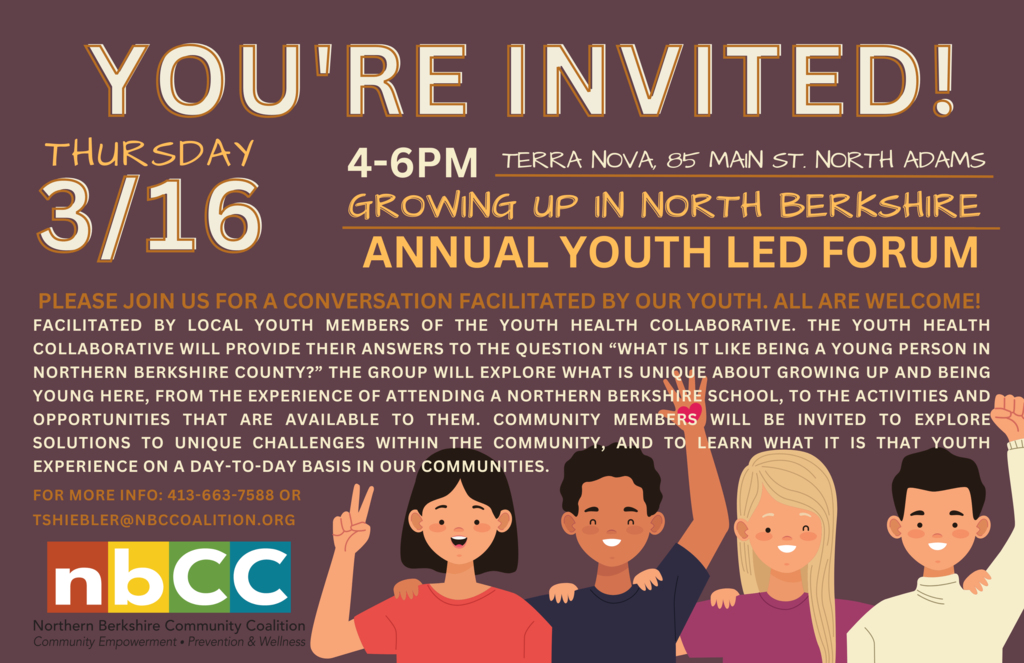 Information from the Food Bank of Western Mass.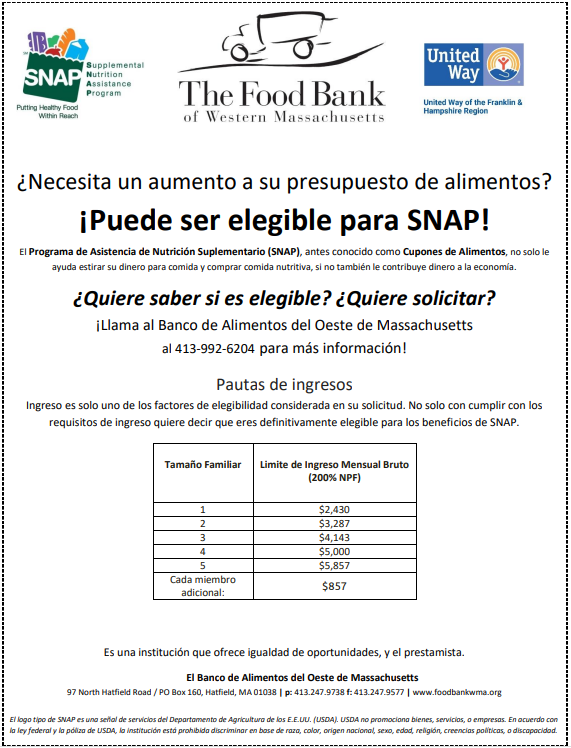 MCLA Sam Gomez Race See flyer for details.

North Adams Mobile Food Bank March 3rd and 17th 10-11 am Brien Center Parking Lot, American Legion Drive All are welcome! The extra pandemic-related SNAP benefits will be ending this month. Additional information can be found in the flyers shared. Updated Food Pantry & Meal Site listing for Berkshire County:
https://5il.co/1q2pt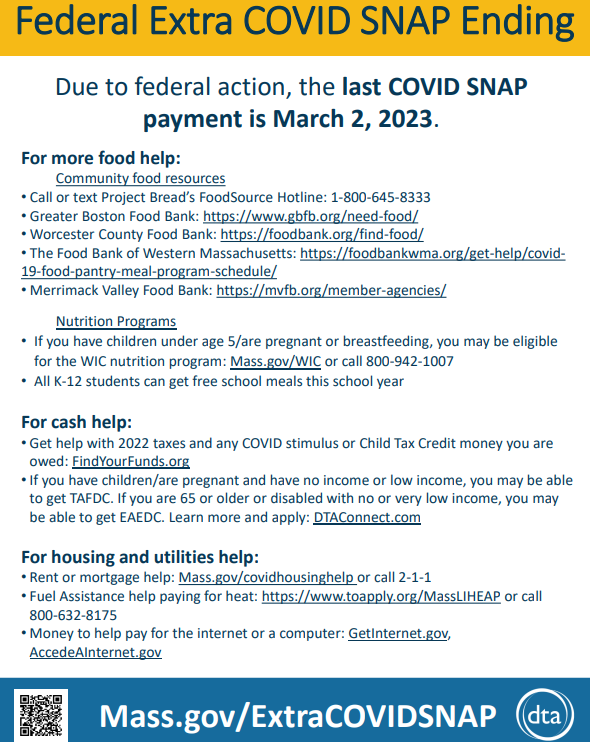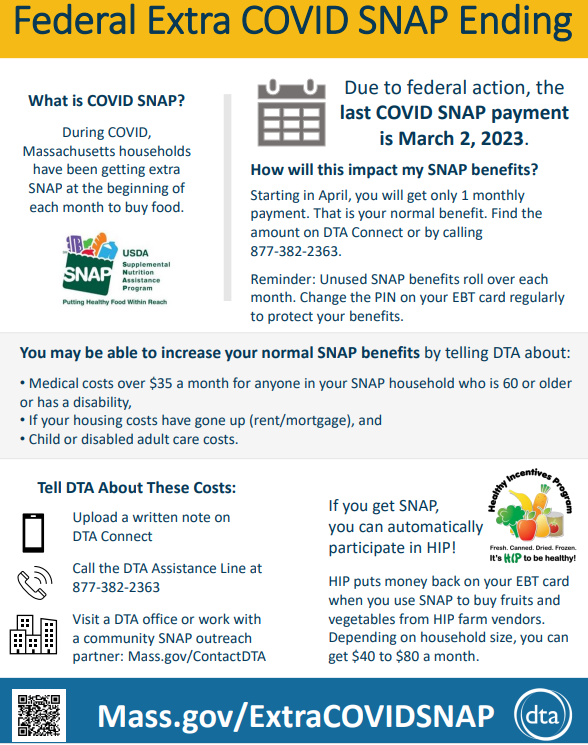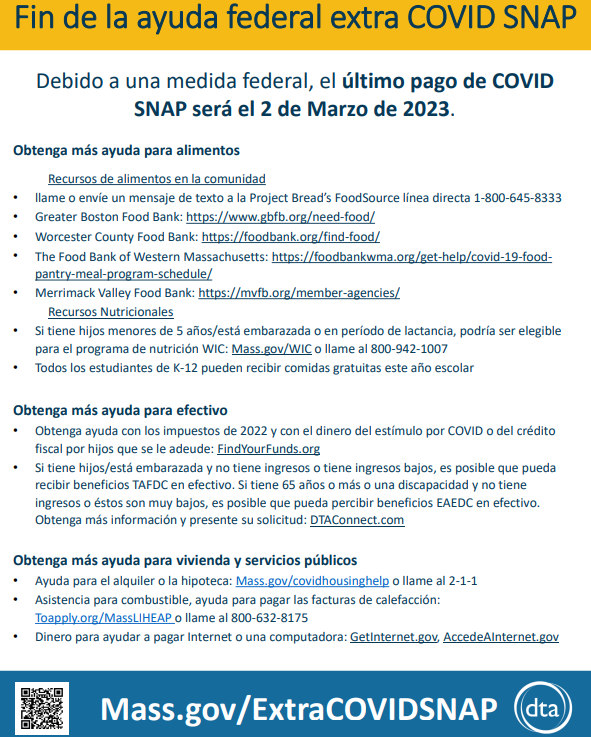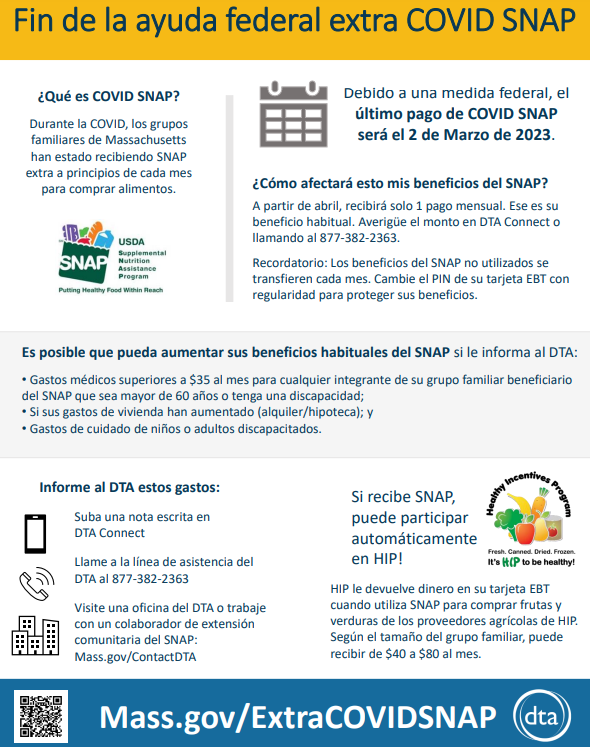 nbCC Youth Lead Forum "What It's Like Growing Up in North Berkshire" March 16th, 4-6 pm Terra Nova Church, 85 Main St., North Adams See flyer for details

MassHire Berkshire Workforce Board Presents "Working with High School Interns" The MassHire Berkshire Workforce Board will lead sessions for employers/organizations interested in working with high school interns on the following dates from 9-10:30AM: Wednesday March 15, 2023 at the Red Lion Inn, Main St. Stockbridge, MA Wednesday April 26, 2023 at Massachusetts College of Liberal Arts (MCLA), North Adams, MA Friday May 12, 2023 at Berkshire Health Systems Hillcrest Campus, 165 Tor Ct. Pittsfield, MA These identical workshops will provide tips, guidance, and strategies for providing internships to high school students. They are open to professionals interested in starting an internship at their company or looking to enhance their current internship program. To register, email
Kat@masshireberkshire.com
or call 413-442-7177 x 120.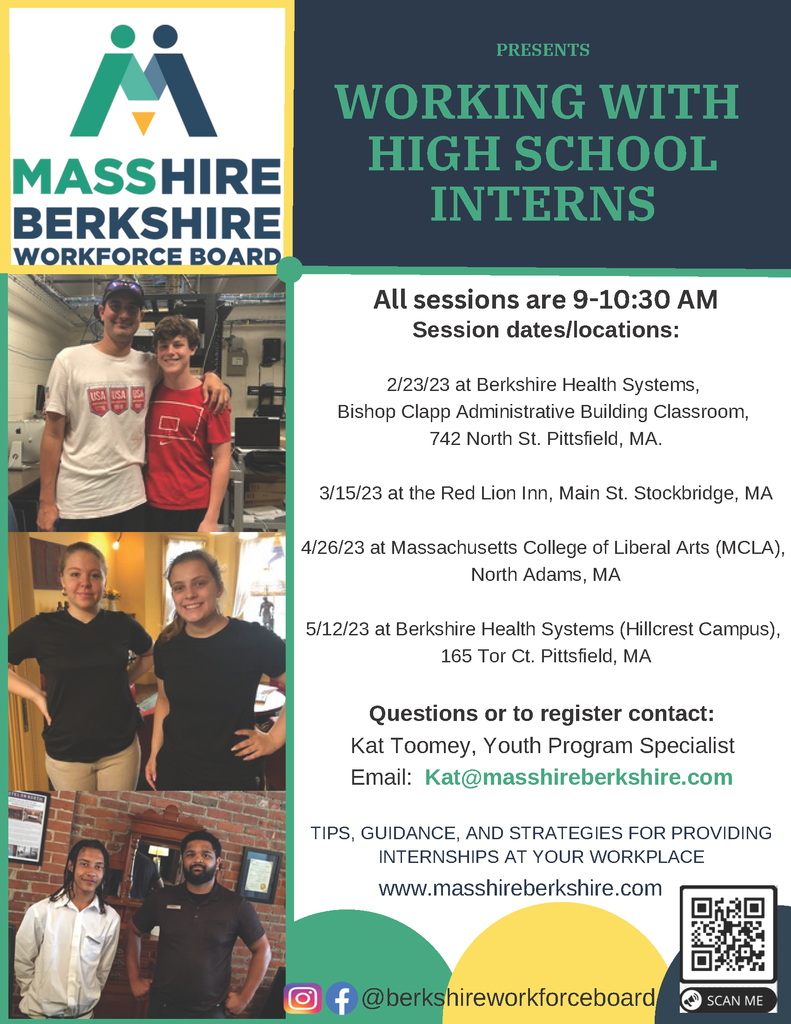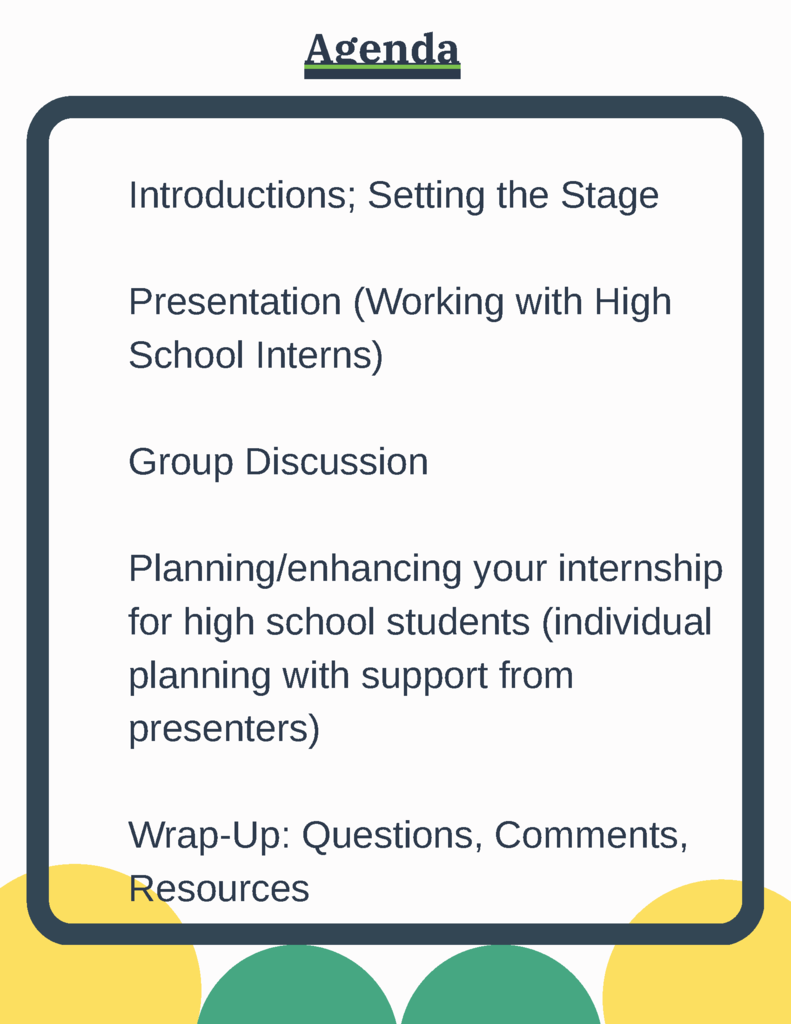 The next presenter for UMass 4-H CES is: Brian Hand Wall Street Trader & Pilot March 8, 2023 7-8PM (Eastern Time) Via Zoom Link to register:
https://bit.ly/CES3-8-23

Upcoming events from Berkshire Community Action Council (BCAC): BCAC is hosting a meeting with Representative John Barrett III on Monday, 2/27/23 from 8:30-9:30 am, 85 Main Street/Terra Nova to discuss how to better support our low-income Berkshire neighbors. To RSVP, please call Aleta or Karen at (413) 663-3014. Please Save the Date for a Community Conversation on Poverty being held on 3/31 from 10-2 at Williams College. More information and registration details to come! BCAC has also launched a community needs survey to get feedback to inform their program planning for the next three years. Your responses will help to design or modify their programs to better meet your needs and the needs of the community. Please take a few minutes to complete the survey. The information you provide will be confidential and you will not/cannot be identified. To take the survey, please go to the link below:
https://www.surveymonkey.com/r/T6K8G9N

The next North Adams Mobile Food Bank will be on Friday, Feb. 17th, from 10-11 am in the Brien Center parking lot (American Legion Drive). The Mobile Food Bank is open to all!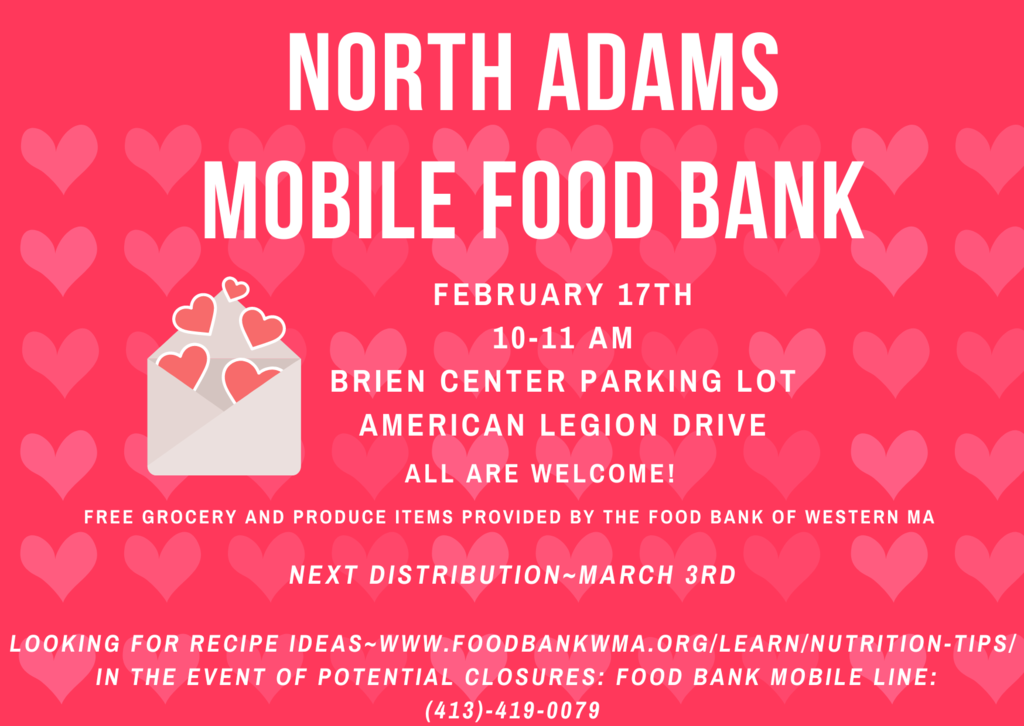 The Berkshire Youth Leadership Program is a 10-month-long program for High School Juniors that aims to help students build a strong sense of self in the Berkshires, facilitate deepened leadership skill development, provide career exploration options, engage students in collective community service, and offer a space to develop meaningful relationships with peers across the entire region. Students must apply for the program in the winter of their Sophomore year and selected students will then begin their participation with a 2-night retreat June 9-11, 2023. Starting in August 2023, students will then participate in monthly, day-long sessions that will run through April 2024. Any and all Berkshire County high school sophomores, or sophomore aged home-school students in the Berkshires, are urged to apply. The deadline for current Sophomores to apply is February 17th, 2023. For more information, and the link to apply, please go to
https://1berkshire.com/1berkshire-programs/youth-leadership-program/

Berkshire Babypalooza Community Baby Shower being held at Greylock Works on 4/15/23 from 11 am to 1 pm. See flyer for details.